By Laura Neitzel for Police1 BrandFocus
Los Angeles Police Department's Bonus Qualification Course is legendary. Established in 1964, aspiring officers had to get a certain score on the course in order to graduate from the police academy. Today, the bonus course lives on not as a requirement to graduate, but as a qualification test for officers to demonstrate their level of marksmanship. To achieve a perfect score of 400, a shooter must place 40 rounds inside 10 rings on a human silhouette target.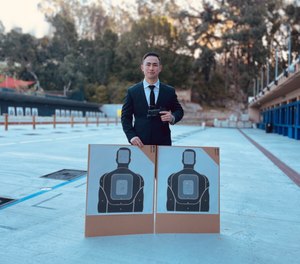 Of the thousands of officers who have shot the course in the decades since its founding, only 41 had achieved a perfect score. In January 2022, using a Staccato P, Officer Justice Huynh became the 42nd.
Huynh's path to a perfect score on his shooting qualification test started when he was 7 years old. His father, a police officer, took him to the local gun range and started teaching him the fundamentals of shooting.
"We laugh about it now, but all these drills and everything he ran me through from 7 on, they're all little snippets of what the department actually teaches and uses to qualify officers," said Huynh, who has been with LAPD for four years.
That childhood experience has stood him in good stead in his career at LAPD. By achieving a perfect score and a top marksmanship rating of "distinguished expert" ─ earned by shooting an average score of 385 for six months ─ Huynh received recognition as a member of the elite "400 Club."
WHAT IT TAKES TO SHOOT THE BONUS COURSE
The Bonus Course is not just shooting a 40-shot course of fire. It's a rapid-pace, six-course test that consists of shooting 40 rounds at two different targets from different yardages and landing left body/right body/head shots within a specific time frame – all in about five minutes. Each phase gets progressively more challenging and more stress-inducing.
Here's how that breaks down:
Six Phases of the LAPD Bonus Course
Phase 1 – Start at Seven
7-yard distance
2 targets
4 body shots in 3 seconds – 2 right, 2 left
2 head shots in 1.5 seconds
Phase 2 – The Quick Six
7-yard distance
2 targets
6 body shots in 3.5 seconds – 2 right, 2 left, 2 right
Phase 3 – Three for Four
10-yard distance
2 targets
4 body shots in 3 seconds – 2 right, 2 left
2 head shots in 1.5 seconds
Phase 4 – Two Shots Two Seconds:
10-yard distance
2 targets
2 body shots in 2 seconds – left target
2 body shots in 2 seconds – right target
2 body shots in 2 seconds – left target
Phase 5 – Reload Round
17-yard distance
2 targets
2 magazines of 4 and 6
10 rounds in 30 seconds, alternating right and left
Reload after 4 shots
Phase 6 – The Stress Test
25-yard distance
2 targets
2 rounds in 4 seconds from right side of barricade – one right, one left
2 rounds in 4 seconds from left side of barricade – one right, one left
2 rounds in 4 seconds on top of cover – dominant hand, one right, one left
DOES A CHOICE OF WEAPON MAKE A DIFFERENCE?
While Huynh seemed destined to become an expert marksman, it wasn't easy. It takes tremendous time and dedication to go to the range day after day. In addition to the hard work, Huynh credits his using a Staccato P.
"If I didn't use a Staccato, I don't think I would have shot a 400 score."

– Officer Justice Huynh
LAPD officers who qualify with scores of 365 or better in the bonus course and take a 1911/2011 pistol transition course can use Staccatos on duty. More than 2,000 LAPD officers have purchased the weapons, including more than 90% of LAPD SWAT officers, and 80% of those carry them on duty.
"When I got the perfect score with my Staccato P, I was fortunate enough to go to 1911 school," said Huynh, "and ever since then I've been carrying a Staccato on duty. I think it's the best one out there."
COUNTING ON YOUR SKILLS AND YOUR WEAPON WHEN IT REALLY MATTERS
Reflecting on his perfect score, Huynh gives most of the credit to his father.
"It was very beneficial being able to have my dad help me throughout the way. He's been a police officer for 27 years now, so I've definitely looked up to him my whole life," said Huynh. "He definitely motivated me and gave me the inspiration to join the police department, too."
Obtaining a perfect score has inspired Huynh to continue perfecting his marksmanship. He's part of the LAPD's shooting team that travels to national precision pistol competitions. But as an officer, he's just grateful for what his marksmanship skills and a trustworthy duty weapon provide him.
"Our families are depending on us to come back home," said Huynh. "I hope I'm never put in the position of needing to defend my life, but if I were, I want to have the confidence in the marksmanship I need to be able to do that. Having the tools available to me to keep my job ─ and my life ─ gives me peace of mind."
About the Author
Laura Neitzel is Director of Branded Content for Lexipol, where she produces written and multimedia branded content of relevance to a public safety audience, including law enforcement, fire, EMS and corrections. She holds degrees in English from the University of Texas and the University of North Texas, and has over 20 years' experience writing and producing branded and educational content for nationally-recognized companies, government agencies, non-profits and advocacy organizations.
See the original article at Police1.com